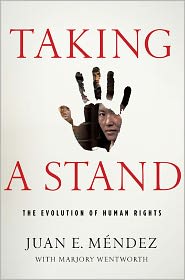 Blue Bike welcomes back S.C. Poet Laureate Marjory Wentworth this fall to sign her new book co-authored with Juan E. Méndez, Taking a Stand: The Evolution of Human Rights (Macmillan, hb., 256 pp., $27). Join us at the store Sat., Oct. 1, 5-7pm to hear firsthand about the authors' experiences with human rights violation and the research process for this profound analysis.
 Taking a Stand offers  forth an authoritative and incisive examination of torture, detention, exile, armed conflict, and genocide. Drawing on their experiences with the United Nations, Méndez and Wentworth offer a new strategy for holding governments accountable for their actions, providing an essential blueprint for different human rights groups to be able to work together to effect change.
Marjory Wentworth is a Pushcart Prize-nominated poet whose has worked extensively in human rights for organizations such as the UN High Commission for Refugees in Geneva, Switzerland; The Whole World Institute of Boston; and Church World Service in New York. She lives in Charleston, South Carolina.
Juan Méndez is the United Nations Special Rapporteur on Torture. Previously, he served as the first Special Advisor to the Secretary General of the United Nations on the Prevention of Genocide and is the former president of the International Center for Transitional Justice. He spent 15 years at Human Rights Watch and  is currently a visiting professor of Law at Washington College of Law. He lives in New York City.
###